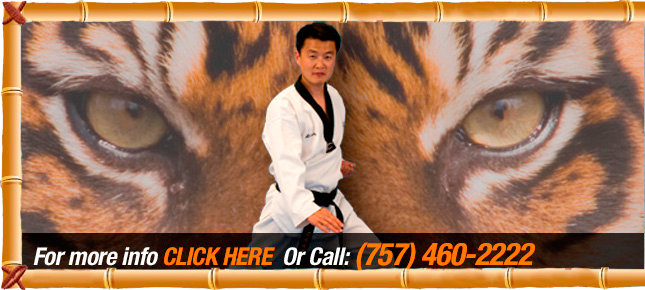 Register Today!
Receive 10$ OFF!
Introductory Program
+FREE UNIFORM!
Congratulations!
July Champion ~ Julian Richard
July Best Students:
Jeremiah Fajota & Lavonna Millard





Testimonials
I am not aware of another studio that provides children the nurturing environment and discipline required to succeed not only in class, but also in life!



Visit us and see why Virginia Beach and Norfolk residents choose U.S. Tae Kwon Do Center for Martial Arts, Aikido & Taekwondo training!
Ask about our YOGA classes!
Monday & Friday mornings 9:30 - 10:30. Call for details!
757-460-2222
From the moment you enter our school you will appreciate the family atmosphere! Younger students will find positive role models, teens will meet peers with healthy habits, adults will find a motivating atmosphere for training and families can enjoy classes that will allow everyone to "kick" together. Martial Arts foster cooperation and mutual respect and you will look forward to the positive energy in our classes and meet new friends.

It's Back to School time! Our "After School Taekwondo" program will transport your child from school to our center for training!
Homework assistance, character development classes included.
To register call 757-460-2222

| | | |
| --- | --- | --- |
| Belt testing | | Belt Ceremony |
| July 18 @ 5:30 P.M. | | July 25 @ 5:30 P.M. |
| August 22 @ 5:30 P.M. | | August 29 @ 5:30 P.M. |
Black Belt Testing - October 15 @ 5:30 P.M.

Congratulations to our new Black Belts:
Justin John & Jaden John - 1st Dan
Michael & John Paradise - 2nd Dan

Make sure to check back in so you can keep current with all the news happening at
US Tae Kwon Do Center, Virginia Beach Taekwondo .
At U S Tae Kwon DO Center, we teach the martial arts of Taekwondo and Aikido. Our students are not only Virginia Beach residents. Many travel from Norfolk, Portsmouth and Chesapeake to attend our school.

Taekwondo is offered to different age groups, from children's Taekwondo to adult''s Taekwondo at our Virginia Beach location. The benefits are confidence, focus, goal setting and respect, important not only to young forming minds but adults as well. Taekwondo is more than kicking and punching. It is a path to learning how to lead a fulfilled life. Thus our slogan "Train for Life".
It's no secret that in recent years interest in the martial arts has surged. Many believe that Taekwondo and Karate are the same. However, though both are striking arts, they are quite different. Karate's country of origin is Japan and Taekwondo was originated in Korea. Only Taekwondo enjoys the distinct recognition as an official Olympic sport, one reason why it has become the fastest growing family sport worldwide.
Aikido is the principle of nonresistance. Because it is nonresistant, it is victorious from the beginning. Those with evil intentions or contentious thoughts are instantly vanquished.
The name Aikido is composed of three Japanese words: ai, meaning harmony; ki, spirit or energy; and do, the path, the system, or the way. ''MidAtlantic Aikido" offers weekly classes here at our Virginia Beach location. We have a growing demand for people looking to fulfill their knowledge in this very old art. Benefits are immense and the art itself is very traditional. We offer Martial arts classes for teens and adults. Visit us at 1077 Independence Blvd. in Virginia Beach!