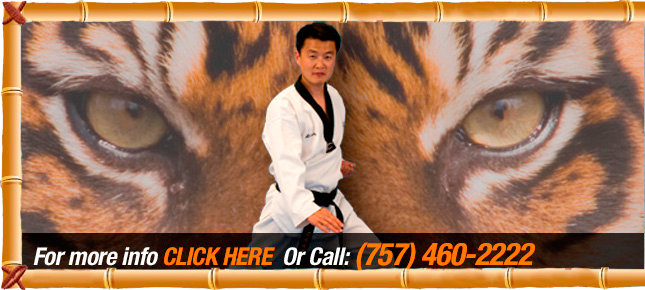 Register Today!
Receive 10$ OFF!
Introductory Program
+FREE UNIFORM!
Congratulations!
July Champion · Laine Kwong
July Best Students:
William Maslanka IV · Annabel Niño








Testimonials
I am not aware of another studio that provides children the nurturing environment and discipline required to succeed not only in class, but also in life!



Visit us and see why Virginia Beach and Norfolk residents choose U.S. Tae Kwon Do Center for Martial Arts, Aikido and Taekwondo training!
From the moment you enter our school you will appreciate the family atmosphere! Younger students will find positive role models, teens will meet peers with healthy habits, adults will find a motivating atmosphere for training and families can enjoy classes that will allow everyone to "kick" together. Martial Arts foster cooperation and mutual respect. You will look forward to the positive energy in our classes and meet new friends.

Our "After School Taekwondo" program will transport your child from school to our center for taekwondo training.
Homework assistance and character development classes included!
To register call 757-460-2222

| | | |
| --- | --- | --- |
| Belt testing | | Belt Ceremony |
| August 21 @ 5:30 P.M. | | August 28 @ 5:30 P.M. |
| September 25 @ 5:30 P.M. | | October 2 @ 5:30 P.M. |
Black Belt Testing - June 17 @ 5:30 P.M.

Congratulations to our new Black Belts:
- 1st Dan
Julian Richard · Nick Tabor · Hans Peterson · Khush Patel · Joshua Trejo
Daniel Paradise · Nimish Nookala · Morgan Nixon · Rohan Nagabhirava
Adrienne Healy · Adam Healy
- 2nd Dan
Lisa Cuervo · Diego Cuervo · Osama Modjadidi
-3rd Dan
William Maslanka
Make sure to check back in so you can keep current with all the news happening at
US Tae Kwon Do Center, Virginia Beach Taekwondo .