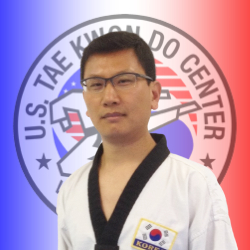 Certifications
7th Dan BlackBelt in Taekwondo
Korea State Championships Gold medalist
Korea State Championships Silver medalist
Biography
Master Jaeho Lee began training at the age of 7 in Korea and currently holds a 7th Dan BlackBelt in Taekwondo. While in Korea he taught at Chungmu Taekwondo School and Honam University. He is the holder of Gold and Silver Championship medals in the Korea State Championships. During his career he has developed many Gold, Silver and Bronze competitors. With over 43 years' experience, Master Lee is at the top of his profession.
Having trained in Taekwondo, Hapkido, Kumdo and various forms of weapons, his abilities are as versatile as they are precise.
Master Lee strives to teach his students not only techniques but the values and character strengths inherent in the martial arts. His patience and indomitable spirit keep his students coming back for more.